Economic Empowerment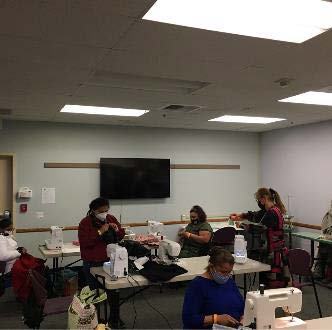 La Maestra foundation offers job training and placement as well as financial literacy programs for those who may lack the means or education to turn their life around and become more financially independent. The organization has recruited former patients and clients to work for the organization as van drivers, maintenance and laundry crew, coffee cart staff, florists at La Maestra's Blossoms floral arrangement shop, and more. Additionally, La Maestra offers light-touch financial coaching that consists of identifying a financial goal, creating a spending plan, calculating financial transaction costs, pulling a credit report, calculating total debt, and referring to a free tax site is also available. Job training and placement as well as financial literacy programs help to equip immigrants, refugees, or those with low-income and low educational attainment with the skills necessary to enter into the workforce and obtain a decent paying job.
The Economic Empowerment program (Microcredit program) provides the following services:
Job training
Financial literacy
Microloans
Mentoring
Small business training
Peer support network
Wellbeing workshops.
For more information please call us at Tel (619) 795-5971

The Microcredit Program for Women (MPW) gives women an opportunity to gain skills, resources, and self-confidence necessary to attain financial independence and achieve self-sufficiency. The
program has been able to develop an online platform where the women of the Microcredit program can sell their handmade goods, face masks, and other items. The online Etsy platform expands the range of customers beyond the local crowd; sellers have the option to ship anywhere within the United States, as well as internationally. The use of this site as a selling platform allows the
participants to continue operations and maintain financial stability while remaining safely at
home. Participants were provided with materials for handcrafting, bagging, and shipping- these
items were to make transitioning to an online platform a little easier. Currently, there is three
participant that are actively using Etsy to sell their handmade goods, and there is hopes that more
MPW participants will be set up on the same platform to continue their business endeavors.
The adult Sewing Classes are held once a week for 3 hours following proper social
distancing protocol, including 6 or more feet of space between students, groups smaller than 10
people, and masks are required and to be worn at all times. There are currently 9 students who
regularly participate during class. These students have enjoyed being able to return to the class
and have begun working on different projects, learning and strengthening skills, and using these
skills in the Microcredit group to learn about marketing and selling their handmade goods. The
students were encouraged to continue creating pieces and all materials were provided for them to
make their pieces. This quarter, there are a total of 50 participation records for the sewing
class. The sewing class will be going on a brief summer hiatus, and classes will resume at the beginning of September.